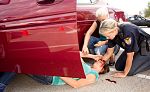 If you are experiencing pain and discomfort after an auto accident, it is a good idea to consult a chiropractor. He or she is a highly trained professional who can treat whiplash, neck pain, back pain, soft tissue injuries and more. With gentle chiropractic care, you can fully recover from your injuries without unnecessary medications or surgeries.
After most serious automobile collisions, the victims will be thoroughly assessed by medical personnel. However, when the accident is minor, medical attention is often not recommended or suggested. In many cases, individuals do not feel any pain in their neck, back or joints until a few days after the impact. Only then do they seek help from a medical professional.
Most emergency room doctors and the like are not trained in chiropractic care. While they may offer pain medications to reduce your discomfort, they often have very few solutions when it comes to permanently reducing pain and promoting healing. Many patients leave their doctor's office with very hope of ever feeling better.
Chiropractors, on the other hand, are experts in the field of neck, back and joint pain. They are well trained in techniques for reducing pain and promoting the natural healing of injured tissues and muscles. It is important that you meet with a chiropractor as soon as possible after an accident. He or she will assess your injuries and make recommendations for therapies and treatments that will target your discomfort.